MACS NEWSLETTER – OCTOBER, 2018 | HELLO, FLORENCE, MICHAEL, WYATT, LUKE, AND LANDRY!!
by
Edward Watson
in MACS News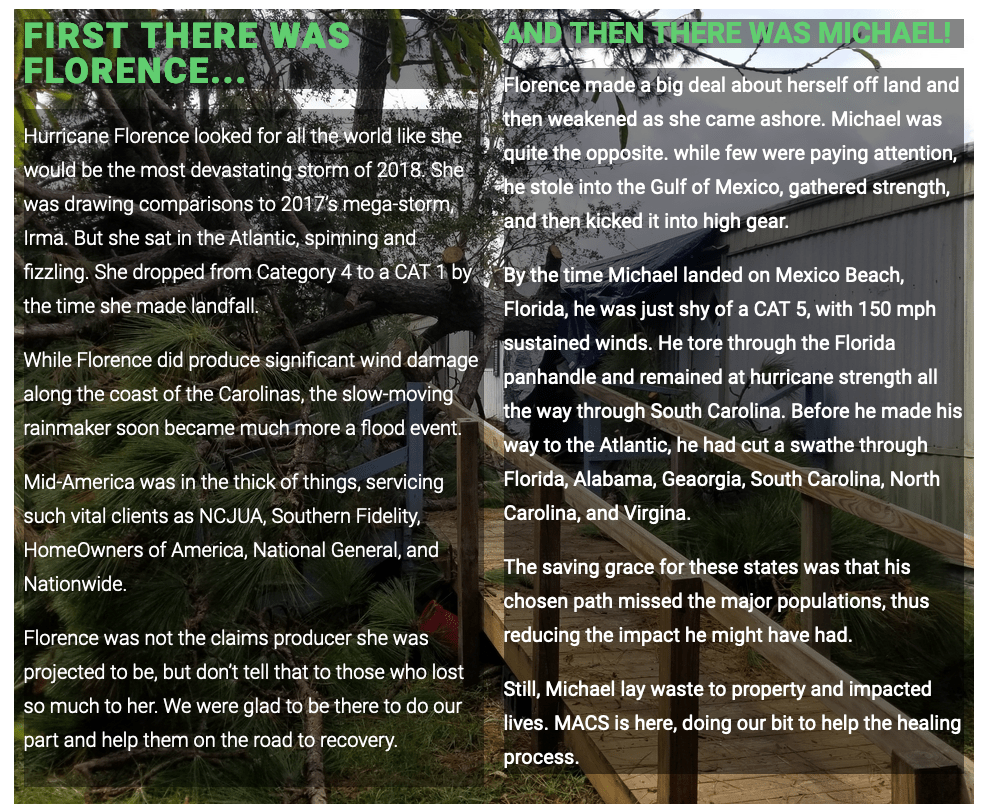 ALONG CAME WYATT, LUKE, AND LANDRY​
Perhaps fittingly, in the midst of storm season, The Mid-America family welcomed long-awaited and much-anticipated additions. Josh Story – son of co-owner Stacy Story and a core adjuster for MACS – and his wonderful wife Jennifer celebrated the arrival of their first child, Wyatt Dean on 9/27.
Meanwhile MACS Claims Manager Steven Turner and his awesome wife Rhianna got a two-for-one deal on October 2 with the birth of son Luke Steven and daughter Landry Claire!
All the babies were born beautiful and healthy. Congratulations all around! Even in the season of storms, there is "joy unspeakable and full of glory."

On the Move
Mid-America is welcoming new clients to the fold and thus expanding our operations, especially in the northeast states of New Jersey, New York, Massachusetts, and New Hampshire. If you live in that region or you are licensed in NY and interested in working daily and CAT claims, we are looking for you. Click the icon and send your resume to HR@midamcat.com today!
The future is bright at Mid-America Catastrophe Services. To accommodate the anticipated growth, we have purchased a much larger facility just minutes from our current location.
As we continue to expand, new and better opportunities arise for inside adjusters, outside adjusters, file reviewers, and more.
MACS has always been a company built by adjusters for adjusters. From our owners to our account managers to our file review manager, we are adjusters. We get it. Get on the team that gets it.
We care about our clients